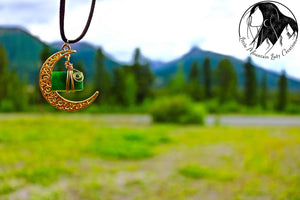 About Me
My name is Kylee Ryan and I live in the beautiful Cassiar Mountains of Jade City British Columbia. I came to spend a weekend here with my friend at the time and ended up never leaving. I have been here for 6 years now and that friend is now my loving boyfriend, Joshua Bunce!
Did you know that 90% of the worlds Nephrite Jade comes from this spectacular place I call home in northern BC? Being surrounded by all this beauty and jade inspired me to create. I hike the mountains with my boyfriend and our five dogs to find natural crystals. My in laws and boyfriend have been mining jade for the last 10 years, although it's been a family business since 1985. I used to never think of myself as creative until I started making wire wrapped pieces for myself, family and friends in 2014. I was working in the Cassiar Mountain Jade Store owned by my in-laws and eventually people travelling through started wanting to buy the pieces I made! I set up a little table of my creations in the store and my love for wire wrapping started there. I have been selling my jewelry online since 2017. I am completely self taught and I hand pick all of my stones from high quality jade pieces mined by my boyfriend and his family. I like to keep the stone as natural as possible. I have loved watching my skills grow over the years. I hope you enjoy my creations and know they are made with the most love and care I could ever offer. I wouldn't be where I am today, if it wasn't for the help and support I received from my boyfriend Joshua and his mother Claudia. Our little town has 25 people that live here year round. We have to travel 2 hours for hospital/food etc so we live an interesting life in the north. Jade City is on the Cassiar Highway right near the BC/Yukon border.
I was born and raised in a little First Nations village off the coast of Prince Rupert BC. Metlakatla was my home for 14 years and still holds a piece of my soul. I am first nations(Tsimshian) and ukrainian. I am 25 years old and am the oldest of 3 girls. I love hiking, dogs, coffee, rain, road trips, being on the water, and making pretty things.

Thank you,

Little Mountain Lady Creations
Kylee Ryan
Follow my facebook for more posts
https://www.facebook.com/lttlmtnldycreations
Follow the Wandering Paws Squad on Facebook! 
 https://www.facebook.com/wanderingpawsofficial/
---