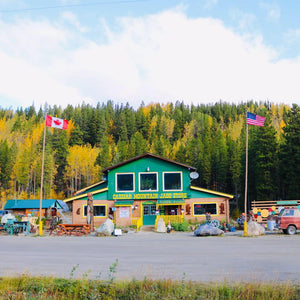 About Jade City
With 90% of the Jade in the world market currently being supplied from British Columbia, Jade is more than a business, Jade is our life. 
Our home, Jade City is located in the remote Cassiar Mountain range of Northern B.C. 120 km from the Yukon border. The Bunce family started mining jade over 40 years and four generations ago. The community of Jade City started in 1985 with Steve, creating a destination where anyone and everyone was welcome. Steve had his daughters working in his store learning the retail and jade mine business but left the tourism segment in 1992 when Cassiar, the asbestos mine and town shut down leaving little local support in the area. 
In 2001, Claudia, Steve's eldest daughter, and her husband Robin, brought their family back to Jade City and continued the jade fever. Claudia and Robin, with the help of their three children, family and close friends continued to share their passion for all things jade, mining the stone, designing products and building a world renowned tourism destination. Claudia designs thousands of new jewelry pieces and carvings every year. Joshua, my boyfriend, has been mining with his parents for the last 8 years.
In 2014 the family began the creation of an award nominated t.v. show, Jade Fever, on Discovery Canada which will air the 6th season in spring 2020.
Jade City is now home to 30 people year round. The only store is the Jade Store. We drive 6 hours to Whitehorse YT or 8 hours to Terrace BC for supplies. 
Visit www.jadecity.com for the jade store!


---